Assembly

Brick Lane Mosque
Old Kent Road Mosque

Assembly is a series of site-specific installations that perform Islamic prayer spaces, made and exhibited in Brick Lane Mosque (2018 –19); and Old Kent Road Mosque (2019–20). The moving image installations are made in collaboration with each mosque community establishing clear guidelines for the filming process, ensuring an ethical, non-intrusive approach that respects the sacred moment of worship. Automated motorised camera rigs are installed in each mosque to record the Jumu'ah (Friday) prayer from above. The film is then projected onto the same carpet where the prayer took place, encouraging each community to reflect on their own religious practices and explore thoughts and feelings related to worship, time, space, and being. As one congregation member describes,

"The projection opened my eyes to the physical act of prayer. Of movement and repetition. Because my view or senses are often fixed on a focal point (the imam), I didn't really consider my own movements. But of course, in the core of Islamic thought, it is the worshipper's movements that are essential and none others." (Congregation feedback)

The controlled motorisation of the projection mirrors the movement of the recorded image, which gives the effect of only the frame moving through physical space, constantly revealing, and concealing the actual site below. Assembly does more than reproduce prayer: it also "performs" the social and religious structures of the site, each installation functions as a self-making apparatus, in turn, making a broader argument about the triumph of lived space over representational space. At the end of each residency, each mosque congregation invited the public into their mosques, providing an opportunity for Muslims and non-Muslims to experience Jumu'ah first-hand via the site performances. The findings from this research were shown as part of the Three British Mosques exhibition at the 2021 Venice Architecture Biennale, curated by Shahed Saleem and the V&A.

Project partners were the Inclusive Mosque Initiative, Interfaith UK and the Muslim Council of Britain.

< Back Next >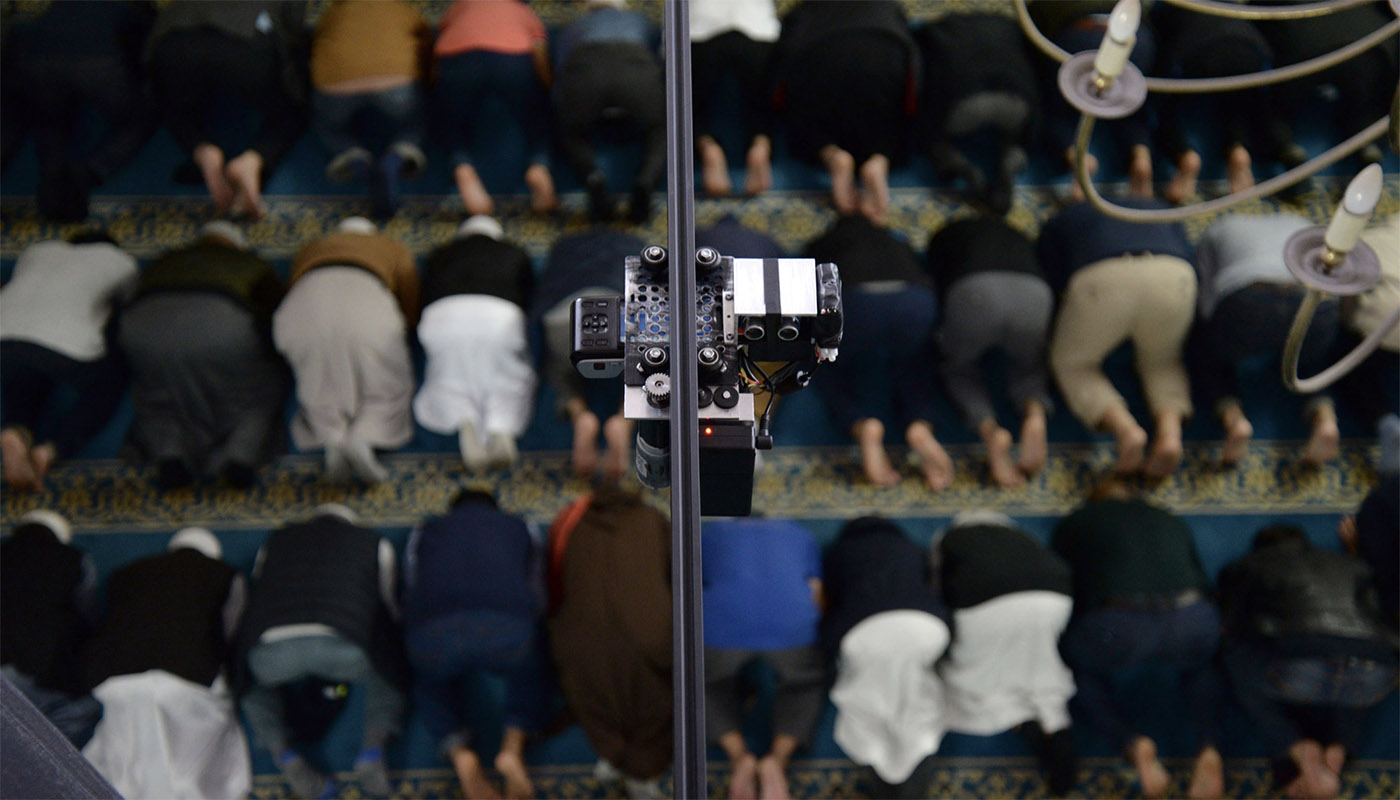 Documentation of Assembly © Julie Marsh